This week we have found a recipe which, we have tried and tested (over and, over!) and we think you would love just as much as us!
Follow the instructions below to make some truly irresistible Sweet Potato Puree with Goat Cheese and Truffle Oil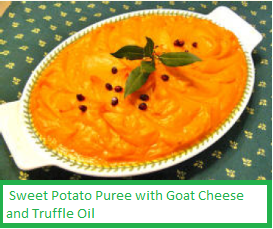 Ingredients:
- 2 1/2 lb Sweet potatoes (red skinned sweet potatoes yams peeled cut into 1 1/2 inch pieces)
- 4 oz Soft fresh goat cheese (montrachet crumbled)
- 2 tbsp Stick butter
- 1 tsp White truffle oil


Directions:
1. Cook sweet potatoes in large saucepan of boiling salted water until tender, about 15 minutes
2. Drain
3. Transfer sweet potatoes to processor
4. Add cheese and process just until mixture is smooth
5. Add butter and truffle oil
6. Process just until blended
7. Season puree with salt and pepper
8. (Can be prepared 1 day ahead
9. Cover and refrigerate)
10. Stir puree in large saucepan over medium heat until heated through
11. Transfer puree to bowl and serve


A luxurious twist on a perfect accompaniment to any winter warmer. This recipe can be prepared one day in advance, just cover and refrigerate.
Really love your truffle?! ... why not add in a few slices of our La Rustichella Truffle pieces?
Please follow the link below to all of our truffle products: http://www.gourmelli.co.uk/truffle-products.html